What does the skin microbiome have to do with skin?
From an early age, we are taught to be wary of microbes, micro-organisms that are invisible to the naked eye. But did you know that certain bacteria can sometimes be indispensable allies for your skin?
What is the skin microbiome?
There are 3 types of microbiome:
The microbiome or intestinal microbiota
The vaginal microbiome or microbiota
The skin microbiome or microbiota
We'll be looking at the skin microbiome here, but we'll also be looking at the vaginal microbiome in our intimate gel. The skin microbiota is defined as all the micro-organisms present on the skin. It is made up of bacteria and fungi that live inside and outside the epidermis. There are over 1000 different species of bacteria on the skin!
What is the role of the microbiota?
The role of the microbiome is actually to protect us by attacking bad bacteria both inside and outside the body. We can therefore think of them as guardians, ready to defend our body against various internal and external aggressions, a sort of "living shield" for the skin. Their presence is not the same for every individual. Although we share around 70% of bacteria between humans, 30% of the remaining bacteria vary from one person to another and depend on numerous factors such as: eating habits, age, lifestyle, profession… It is vital that the skin microbiome is balanced, because if it is not, it can lead to skin problems: skin imperfections, redness, skin sensitivity, excessively oily or dry skin…
There are various reasons for this imbalance:
Pollution
Hormonal variations that can lead to a change in the pH of the skin
Diet
Taking medication
Over-exposure to blue light (screens)
Genetic factors
Unsuitable skincare routine
Periods of stress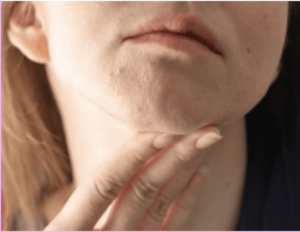 The harmful effects of an imbalanced microbiome on the skin
An imbalance can lead to a number of skin problems such as acne, eczema, psoriasis and atopic dermatitis, as well as dryness and premature ageing of the skin, which tends to thin out without its natural shield. But there are ways to keep your skin's microbiome in balance!
Favour a diet that is unprocessed and as varied as possible: fruit, vegetables and fresh produce. It's essential to limit your intake of fast sugars, saturated fats and processed industrial products.
Avoid excessive hygiene! Too much hygiene harms good bacteria (we often talk about intimate hygiene, which should be kept to a minimum by washing the outside with water, but the same applies to the skin).
Adapt your skincare routine and avoid routines that are too "stripping".
The skin should not be cleansed too much, but rather with oils (avoid micellar waters and more abrasive gels), and opt for gentle skin care products that are free from alcohol, synthetic fragrances (limonene, geraniol, linalool) and essential oils.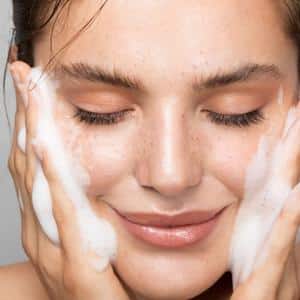 How can I maintain a healthy skin microbiome?
You now know that a healthy skin microbiome is essential for beautiful, healthy skin. To protect it, you need to eat a healthy diet and lead a healthy lifestyle. Cosmetics are also one of your best allies, with different products available in different forms: creams, cleansers, serums, etc.
Here are a few tips on how to look after your skin:
Don't wash your skin too often. Dermatologists recommend washing your face twice a day if you suffer from acne, otherwise washing it once a day is enough.

Use gentle cleansing products such as make-up remover oils, to limit drying out of the skin and damage to the cutaneous barrier!
Be careful not to over-expose yourself to the sun.
Moisturise your skin: if it's too dry, the "good microbes" have trouble living in it, so it's harder to fight the "bad microbes".
Wipe your skin gently after washing.
Choose skin care products that are free from synthetic fragrances and alcohol, have a neutral or physiological pH and contain pre- and post-biotics known to strengthen the skin microbiome.
Discover "
[MY] Regenerating Oil
": our 1st essential facial treatment in a "serum in oil" texture that concentrates precious antioxidant and regenerating oils, and a complex of pre- and post-biotics to strengthen weakened or devitalised skin. An ultra-fine oil with a dry finish that can be used alone as a make-up base or under your skincare product. Ideal for dry, sensitive and weakened skin, it can be used alone as a make-up base, or under your cream as a day or night serum. For all skin types lacking radiance, dry and/or reactive skin, suffering from skin discomfort, redness, blemishes or pigmentation spots.  
It helps to :
Strengthen and preserve the skin's barrier and the correct composition of the skin's microbiome
Stimulate the skin's metabolic synthesis of ceramides and hyaluronic acid
Protect against photoageing and oxidative stress
Smooth skin texture and fine lines, even out skin tone and stimulate radiance
Moisturise, firm and soften the skin
Find our regenerating oil here!